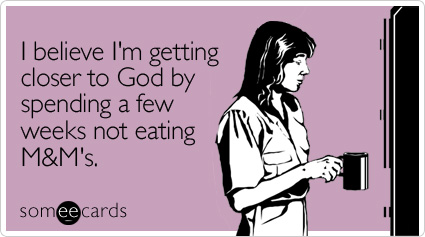 Giving up chocolate and beer for Lent is not what Jesus had in mind by Landon Whitsitt
Links to resources for Ash Wednesday, Lent and Easter here.
Textweek worship suggestions
Helpful reflections on the lectionary texts: Sharron R. Blezzard
Scroll down for music suggestions.
Introduction to Lent in the service:
Today is the first Sunday in the Season of Lent. Lent is a time in which we reflect upon our personal faith and walk with the Lord. Some people spend extra time in prayer and study of the Bible during Lent.  Some people fast.  Some people dispense with unnecessary luxuries and try to live more simply.  Some people set aside money for the poor and needy.  All of these are worthy pursuits. But the worthiest pursuit is our desire to be closer to God and to understand what it really means to be a disciple of Christ. Let us together enter into all the disciplines of Lent.  And in our journeying together may we become more of what Christ had intended us to be when he called us to be his own.
Year A
RCL Readings:
Genesis 2: (7-9) 15-17, 3:1-7     The Garden of Eden
Psalm 32                                       Confession and Forgiveness
Romans 5:12-19                           Adam and Christ
Matthew 4:1-11                            The Temptation of Christ
Howard Wallace – reflections on Old Testament Readings
Bill Loader – reflection on New Testament readings
A table ready to receive a pile of sand, a cross, a purple cloth, a candle blown out, a bible and some pebbles. Place these on the table during these words.
The dust that shapes the journey,
the cross that guides it,
the colour that surrounds it,
the light that fades through it,
the word that foretells it,
the wilderness that invites it.
This is Lent,
and into its wilderness
God calls us.
Come,
brothers and sisters,
Christ is heading for Jerusalem.
(Source: 'Starters For Sunday', Church of Scotland, 2014)
Prayers of who we are (prayers of confession)
On this first Sunday of Lent we get serious about our human predicament.  We face up to the fact that humanity is a sorely tempted and gravely corrupted species of life, and that evil which is not honestly confronted and dealt with, will do anything to exclude God from its sphere of influence.  We also acknowledge one young man from Nazareth, who fought temptation and the source of evil without compromise, and by his efforts opened up an avenue of liberation for humankind (Bruce D. Prewer, Feb 2002)
Let us spend time listening to the conflicted voices within ourselves, within our community, within our world. A silence is kept. 
LUKE 4:1-13
"He ate nothing at all during those days, and when they were over, he was famished."
It's a story probably not true on the outside, but true on the inside:about a journey of the heart, into the heart. Take it literally and we lose the story's power.
Our place, south of the equator, means that Lent is not a lengthening of the light but a lengthening of the dark, of light fading to darkness: a journey into our inmost being, an echo of Jesus' journey to Jerusalem and death, of warm air giving way to cold, of waiting for the autumn rains while the earth cries, "I thirst!"
It's a story not just about Jesus wrestling with temptation and evil;
it's also our story, the struggle in our lives, taking responsibility for our words, our actions.
"When the devil had finished every test he departed from him until an opportune time."
Source: Jeff Shrowder, http://thebillabong.info/lectionary-2/year-c-luke/19c-lent-1c/
Music suggestions – Singing from the lectionary (Natalie Sims)
"Love will be our Lenten calling" (Elizabeth Smith) TiS #684
1. Love will be our Lenten calling,
love to shake and shatter sin,
waking every closed, cold spirit,
stirring new life deep within,
till the quickened heart remembers
what our Easter birth can mean.
2. Peace will be our Lenten living
as we turn for home again,
longing for the words of pardon,
stripping off old grief and pain,
till we stand, restored and joyful,
with the Church on Easter day.
3. Truth will be our Lenten learning:
hear the Crucified One call!
Shadowed by the Saviour's passion,
images and idols fall,
and, in Easter's holy splendour,
God alone is all in all.