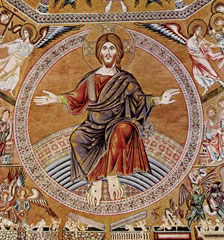 (see also Reign of Christ B in 'Year B' on this site for other resources. Also, Textweek has an incredible range of resources)
In 2017, the so called Black Friday sales immediately precedes the last Sunday in the church year we name as Reign of Christ/Christ the King Sunday. Here's a  reflection, juxtaposing the two:
Tall ships sail the November sky.
Brown leaves run from the wind,
hide behind stone walls.
A half moon backs up into the sky
to see if it can make it all the way across.
I notice.
Curtis is in prison.
I'm thinking of lots of people in prison,
some for being black or gay or angry or truthful.
A mother clings to her child in a UN tent,
a girl is hauled out of the dark room again.
All those: in treatment, getting a transplant,
Parkinson's, depression, divorce just finalized.
I see you.
Spirit stirring in me, my new self,
my regrettable outburst, my forgiveness,
the grace given, the opening, the bud,
my horizon still moving on,
those who come with me.
I know.
I hear there's something
at the mall
but I see nothing there,
nothing.
It's all elsewhere.
It's all here.
(Source: Steve Garnaas-Holmes, Unfolding Light)
Reign of Christ Sunday (or 'Christ the King') was first instituted in 1925 by Pope Pius IX, and over time, has become an ecumenical observance. The one enthroned is also the one who takes the role of the servant and washes feet, and wears a crown of thorns. His concern for the outcast and wounded is in keeping with the actions of the shepherd in Ezekiel. (from 'Gathering', United Church of Canada)
READINGS
Ezekiel 34:11-16, 20-24
Psalm 100
Ephesians 1:15-23
Matthew 25:31-46
First Thoughts on the Old Testament Readings: Howard Wallace
http://hwallace.unitingchurch.org.au/webotcomments/ContentspageYearA.html
http://www.oldtestamentlectionary.unitingchurch.org.au/Lectionary.htm
I myself will judge between the fat sheep and the lean sheep. Ezekiel 34.20
God notices our injustice,
and despises it.
God sees our systems that favor some
and exclude others;
it is God whom we exclude.
The Realm over which Christ reigns
is no heaven in the clouds,
but this trodden earth,
this very place where we foul the water
of our companion sheep,
this world which Christ will dismantle
and rebuild, re-make like the potter and her clay.
To be loyal subject of this Sovereign
it will not be enough to doff our hats
and hurt each other. Piety will not suffice.
The divine passion for the others
will rule our hearts and actions,
lead us from prayer to justice,
enlist us in the royal work of the new Realm.
The fat sheep like it as it is.
The lean sheep are remaking the world.
(Source: Steve Garnaas-Holmes, Unfolding Light)
First Thoughts on the New Testament Readings: Bill Loader
Church of Scotland, Starters for Sunday for Reign of Christ
WELCOME and GREETING
Grace to you, and peace from the One who is and who was and who is to come. May this be a time and place of peace, that everyone who enters, enters in peace; and everyone who leaves, leaves in peace. 
Today is both the end and climax of the Christian year, which began in Advent last December. Today we celebrate the reign of Christ, Christ the King, and the paradox of the one named king who lays down the power to destroy, a leader who treads through the costly journey and into the shadow places of night, that we might find the rising of life before us. Christ the King, born to witness to God's truth, whose might lies in mercy. 
When we speak of Christ as king, we speak of one who: is the first child of a village woman, born in a stable; is a story teller among the common people: welcomes children that gather around him, lays his hands on unclean lepers, makes disciples out of fishermen tax collectors, dines with traitors and other dregs of society, washes the feet of his followers, tramps around the country on foot, allows a prostitute to publicly wipe his feet with her hair. His only crown – a wreath of thorns. His only throne – two crossed planks of wood. (adapted, Bruce Prewer) In him, there is no shadow or darkness, but a light wherein the humble and poor may walk secure forever and ever! Praise his name!
Call to worship (based on Psalm 100)
Make a joyful noise to the LORD, all the earth.
Worship the LORD with gladness; come into God's presence with singing.
Know that the LORD is God. It is God who made us, and we belong to God;
We are God's people, and the sheep of God's pasture.
Enter God's gates with thanksgiving, and God's courts with praise.
Give thanks to God! Bless God's name.
For the LORD is good; God's steadfast love endures forever, and God's faithfulness to all generations.
AN AUSTRALIAN PSALM OF PRAISE: "JESUS IS KING!"
Come, join to praise with morning light: our loving King!
Let grateful voices sound with might: our loving King!
Let children's voices tell their praise,
While aged lips extol your ways,
Let every tongue in joy unite: our loving King
To you we bring our praise!
Let songs like this ring through our land: our loving King!
From coastal farms and inland sand: our loving King!
Let all our nation thankful raise
Its voice in glad tumultuous praise: our loving King
To you we bring our praise!
Let earth's great millions thunderous shout: our loving King!
Let this song spin the clouds about: our loving King!
We'll always shout and sing your praise
While years flit by like passing days,
Until time runs its last hour out: our loving King
To you we bring our praise!
(by Bruce D. Prewer, 'Australian Psalms') Continue reading →