Readings:
Psalm 138;
1 Samuel 8: 4-11, (12-15), 16-20; (11: 14-15);
2 Corinthians 4:13-5:1;
Mark 3:20-35
As 'ordinary time' returns after the Lent and Easter cycle, we return to semi-continuous reading of Mark's Gospel. The lectionary also follows 2 Corinthians.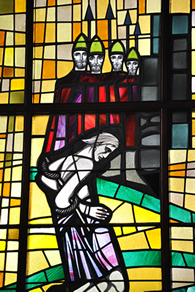 Jan Richardson reflection here.
Call to Worship (based on Psalm 138)
With my whole heart, we give you thanks, O God!
In the face of all the things that clamor for our attention each day, we turn to focus our adoration on you alone, O Lord!
Even though your name is above every name, O God, you recognize us and cherish the meek.
You, Lord, do not give any special honor to the proud and arrogant.  Instead, you strengthen those who are ridiculed and downtrodden.
Let us lift our voices in praise of the God of Love!
Together, let us worship the God who never forgets us!
(c) Amy Loving, The Worship Closet
Prayer of Confession (inspired by 2 Corinthians 4:13-5:1)
Faithful God, we confess that we sometimes act as though there is no hope.  We forget the promise of resurrection.  We fail to see your grace at work in our lives, and so we waste time dwelling on our afflictions instead of celebrating our blessings.  Open our eyes, dear Lord.  Give us your vision, so we may glimpse your eternal glory.  Encourage us, so that we persevere and never lose heart.  We pray these things in the name of the One who holds our future in the safety of his hands. (c) Amy Loving, The Worship Closet

Prayer of Approach and Confession (inspired by Mark 3:20-35)
O God, you call us like a good parent to you to guide and protect us, to nourish and lead us. Brother Jesus, you call us like a caring elder brother to serve us and help us, to cheer us and invite us. Healing Spirit, you call us and move us ever closer into fellowship with you and each other.
Yet like unruly children we strain at your guidance, we try to break away and do it ourselves. We feel our strength and imagine to be all powerful. We rejoice in our life and imagine ourselves to be immortal. We know our talents and want to be independent rather than depend on you. Before we know it we are in the grip of other powers, leading us away from your loving ways into the slavery of selfish greed, adoring false gods of youth-fulness, materialism and power.
Lord, forgive us and free us. Open our eyes how your wisdom knows true leadership to be service. Open our hearts that we may learn that neither race or tribe, culture or religion are barriers to separate us but that we are all one family in your love.
So open our hearts and minds to learn again to live your love as we celebrate and worship you here together.
(c) Rev. Andrea Price, Church of Scotland's Starters for Sunday website.
Sermon (Nathan Nettleton) – Ties that bind
Unquestioning allegiances to family and nation keep us bound to satanic systems, but Jesus binds the satan and breaks us free to be the new family of God.
Sermon reflections (Andrew Prior) – Healing the family sandwich